Black History Month has been a wonderful opportunity to highlight the many contributions African Americans have made to our history and culture, as well as the ways in which charter schools are fulfilling the promise of making a high-quality education available to more students. We were especially thrilled this week to welcome school leaders of color to Capitol Hill to personally make the case to members of Congress and the media about the impact their schools are having in their communities. You can read more about their visit in the Washington Update below.
I was also excited to visit one of the schools whose representatives joined us for the school leaders of color meetings. Purpose Prep in Nashville, Tennessee, opened in 2013 and has grown to serve more than 360 students in grades K-4. Students in the school's North Nashville neighborhood needed a high-quality charter school option, and founder Lagra Newman and her team have delivered. Purpose Prep has been recognized as a Tennessee Reward School for academic achievement, ranking in the top five percent of schools in the state. In fact, Purpose Prep is the first elementary school in North Nashville ever to be named a Reward School.
When I visited this week, I was struck by the school's focus on quality and coaching, a recognition that great schools require constant cultivation. Lagra started Purpose Prep after participating in the Building Excellent Schools fellowship, which allowed her to glean lessons and insights from the best schools in the country. She shares what she learned—and what she continues to learn—with her team, and all the teachers at Purpose benefit from hands-on coaching, similar to the way athletes get coached. This leads to high-quality instruction and great results for students. You can get a feel for the school yourself by checking out the "day in the life" feature on Purpose's website.
Spending time with the educators and students at Purpose Prep was fun and inspiring. It's always an honor to champion schools like Purpose Prep that reflect the passion of their founders and bring new opportunities to students, families, and communities. If you know of a school we should visit, please reach out to us on social media: @charteralliance.
Save the Date: National Charter Schools Week, May 12-18
Join the National Alliance to celebrate the public charter school movement, May 12-18! National Charter Schools Week is a chance for students, teachers, leaders, parents, supporters, and advocates to come together to show how charter schools are committed to providing high-quality public education to students nationwide. This year's dates are a bit later than usual, so mark your calendar now. Sign up to receive updates on the week's festivities!
Facilities Funding News
We continue to raise awareness of charter schools' facilities needs and press lawmakers for fair funding. This month, Nina Rees joined partners in Ohio and Nevada to publish op-eds in local newspapers targeting state policymakers.
The National Charter School Resource Center recently released reports on the charter school facilities landscapes in Oklahoma and Louisiana. The survey found that half of Oklahoma charter schools lack the facility amenities and specialized instructional spaces they require to best implement their educational program, while many Louisiana charter schools face similar challenges. Both surveys show that access to facilities continues to be an issue for charter schools across the country.
Washington Update
House Education and Labor Committee Chairman Bobby Scott (D-VA), Representative Donald Norcross (D-NJ), and Senator Jack Reed (D-RI) have introduced a $100 billion public school infrastructure proposal, the Rebuild America's Schools Act. The legislation would authorize $70 billion in grants and $30 billion in bonds to help address critical physical and digital infrastructure needs in schools across the country. Charter schools would be eligible to apply as local educational agencies or as part of their school district's application. We are exploring options for adding additional language to ensure charter schools have equitable access to the provisions in this bill. For more information, see the summary fact sheet.  
Earlier this week, the National Alliance hosted nearly 50 charter school leaders from 18 states to participate in the 4th annual School Leaders of Color Action Initiative in Washington, D.C. These African-American, Latinx, Native, and Asian-American leaders attended trainings, discussions, and a reception on Capitol Hill, and conducted visits to Congressional offices.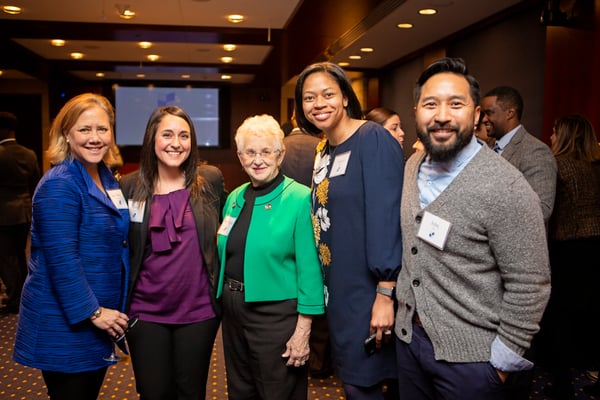 National Alliance board member and former Senator Mary Landrieu, Elsie Urueta Pollock (Tulsa Honor Academy), Amanda Johnson (Clarksdale Collegiate), and John Esa (Redmond Proficiency Academy) mingle with House Education and Labor Committee's Ranking Member Virginia Foxx (R-NC) at the School Leaders of Color convening reception.
Sarah Davis (Resurgence Hall Charter School) and Latrisha Chattin (Susie King Taylor Community School) with Congressman Sanford Bishop (D-GA).
John Taylor (Booker T. Washington Academy), Kristine Rivera (Excellence Community Schools), and Quentin Phipps (Excellence Community Schools) with House Appropriations Labor HHS Subcommittee Chairwoman Rosa DeLauro (D-CT).
School leaders shared their stories with members of Congress and staffers, describing the benefits their schools bring to their communities and making a direct appeal for more funding for charter school growth. It was a great couple of days that will have long-lasting impact. Roland Martin conducted interviews with school leaders on site—watch them here. Also check out The 74's article on the meetings and read Ron Rice's blog post. And find pictures and stories from the visit on social media via the hashtag #SLOC2019.
State Update
A landmark education reform bill that would have created public charter schools in West Virginia failed to garner enough legislative support. As a result, the state will remain one of just six in the country without a charter law. The National Alliance issued a statement lamenting the consequences for "West Virginia students and families who have been denied the opportunity to choose the best public school for them because adults are more concerned with advocating for their own interests." 
A bill to increase accountability for full-time virtual charter schools was introduced in the New Mexico legislature. The bill contains many of the recommendations outlined in the National Alliance's policy brief A Call to Action to Improve the Quality of Full-Time Virtual Charter Schools. As the bill makes its way through committees, we continue to work closely with allies in New Mexico to improve the state's charter laws and will provide updates as they develop.
A package of bills introduced in the California assembly this week would impose severe restrictions on charter school growth in the state. Among other things, the bills would cap the number of charter schools at the current number and eliminate the ability to appeal school board rejections of charter school applications. You can find more details in this article. The National Alliance will be working with state partners to push back hard against the legislation.
From The Charter Blog
The Charter Blog was feeling musical this month. A professional vocalist wrote about her experience at Pennsylvania's Lehigh Valley Charter High School for the Arts, and how she now empowers students through music. La'Vonne Tynes, a music teacher at Friendship Public Charter School, reflected on why she chose to teach at a charter school. And Larry Milian, director and faculty advisor of the SLAM Radio program at Miami's SLAM Academy, discussed how students are breaking new ground as key players in the production of a national radio program on Sirius XM.
Miriam Raccah, the executive director of Bronx Charter School for the Arts, wrote about the a-ha moment that convinced her to make an impact through education—and what she's learned as a school leader of color.
How much do you know about the Waldorf education model? The National Alliance's Jamison White explained the history of the Waldorf approach and profiled Journey School, a public charter school in California bringing this holistic model to public school students.
National Alliance research fellow Adam Gerstenfeld explained how charter school lotteries work to give all students equal access to the charter school of their choice, despite growing wait lists. And Leadership for Educational Equity public policy fellow Tim Abram explained how charter schools are public schools, free to students.
From Our Partners
New School Culture Toolkit: The National Alliance, in partnership with TNTP, released a hands-on resource guide for charter school leaders to build strong and effective school cultures. The toolkit—which features resources on retaining great teachers, compensation and career pathways, and hiring top talent—offers leaders tools that can be implemented immediately. The National Alliance's Kat Sullivan outlined the core elements in a blog post.
Engaging Families in School Choice: Roland Martin's "Is School Choice the Black Choice?" tour stopped at Morehouse College in Atlanta last week. The tour is designed to engage black families on issues of educational equity, student achievement, and parental involvement. The 74 recapped the Atlanta event.
Research Roundup
New CREDO research on Idaho finds that, on average, charter school students experience similar learning gains in math and stronger learning gains in reading compared to their district school peers. Students in rural charter schools saw stronger gains in both reading and math compared to their district counterparts. In an oft-repeated trend, growth was weaker in both reading and math among online charter students relative to the average district students or brick-and-mortar charter school students.
New CREDO research on Ohio finds significant reading progress for students attending brick-and-mortar charter schools and significant reading and math progress for African-American students attending charter schools. Once again, performance among students in online charter schools lagged. Our friends at the Fordham Institute dove into the results in a blog post.
Supporting Students' College Aspirations
Applications are still open for the Jack Kent Cooke Foundation's Young Scholars Program, which offers support for students in grades 8 through 12 to help prepare them for college success. Current 7th graders with financial need can apply through March 14, 2019.
Get Ready for NCSC 2019!
Registration is open for the 2019 National Charter Schools Conference, June 30 - July 3 in Las Vegas. Click here to lock in your spot. We recently announced two keynote speakers for the conference: Sal Khan, founder of Khan Academy, and Hadi Partovi, founder of Code.org. Sal Khan was one of our highest-rated speakers ever when he joined us in 2014, and we're thrilled to welcome him back this year. Hadi Partovi has a story and a message that you need to hear—get familiar with him in this New York Times profile. He will also be on 60 Minutes this weekend to talk about how his organization hopes to close the gender gap in computer science jobs.
As we do each year at the National Charter Schools Conference, we will be recognizing the most recent inductees into the National Charter School Hall of Fame. We would love to have your input on the 2019 class. Nominate an individual or organization that you have witnessed lead or inspire our movement. Submit your nominations for the Hall of Fame by March 31.
National Alliance Team News
Kyle Breckenridge is the National Alliance's new development manager. He'll be working on developing and cultivating relationships with new strategic partners and funders to advance the National Alliance's work. Kyle spent the past two and a half years working on the strategic planning and development team at the Council for a Strong America. Originally from New Jersey, Kyle earned his bachelor's degree from American University.
Sindy Pierre-Noel is the National Alliance's new senior manager of programs. She began her career at the Roosevelt House Public Policy Institute at Hunter College, managing special events for the historic landmark. After a brief stint at Ernst & Young, Sindy began working at Harlem Village Academies (HVA) in New York City. At HVA, she managed school operations and worked on the development team. Sindy grew up in New York City and graduated from Hunter College with a degree in political science.
Great Talent Needed!
The National Alliance is currently recruiting a Data and Research Manager and a Communications Coordinator. Please click here for more details and pass the word to great candidates!
And don't forget to visit our Charter School Job Board, which includes job openings for a variety of positions across the country. It's a great resource for organizations looking to hire and for individuals looking to make a difference in the lives of students.
Support the National Alliance
The National Alliance is a non-profit organization that relies on generous partners like you. Please consider supporting the growth and sustainability of charter schools by making a tax-deductible gift or adding your name to our advocacy list. Thank you!